Fine Art & Antiques - Stephan Andréewitch
Stephan Andréewitch has been part of Vienna's antique scene for almost 40 years. Specializing in antique Viennese clocks, the international company trades clocks, handicrafts, silver cutlery, Biedermeier glasses and Austrian paintings from the 19th century. Founded in 1979 in Burggasse in Vienna Neubau, they spent more than 20 years in Favoritenstrasse in Vienna Wieden. In 1997 the business moved to the inner city. The first locations were in Seilergasse and Spiegelgasse. Finally, a representative shop was opened in 2010 in Stallburggasse 2 near the Dorotheum auction house.
In 1979 Stephan Andréewitch founded his eponymous fine art and antiques - Stephan Andréewitch. In the early 1980s, he discovered his passion for Viennese clocks of the  Biedermeier period. Since then, a large number of Laterndl and Dachl clocks have passed through his hands and have been sold worldwide. Numerous antiques are now represented in Austrian and international collections and museums.
+43 1 5059973 | +43 664 1036390 | info@andreewitch.com
Picture right:
Stephan Andréewitch with a riding prize from the k.k. Silver factory by Joseph Carl Klinkosch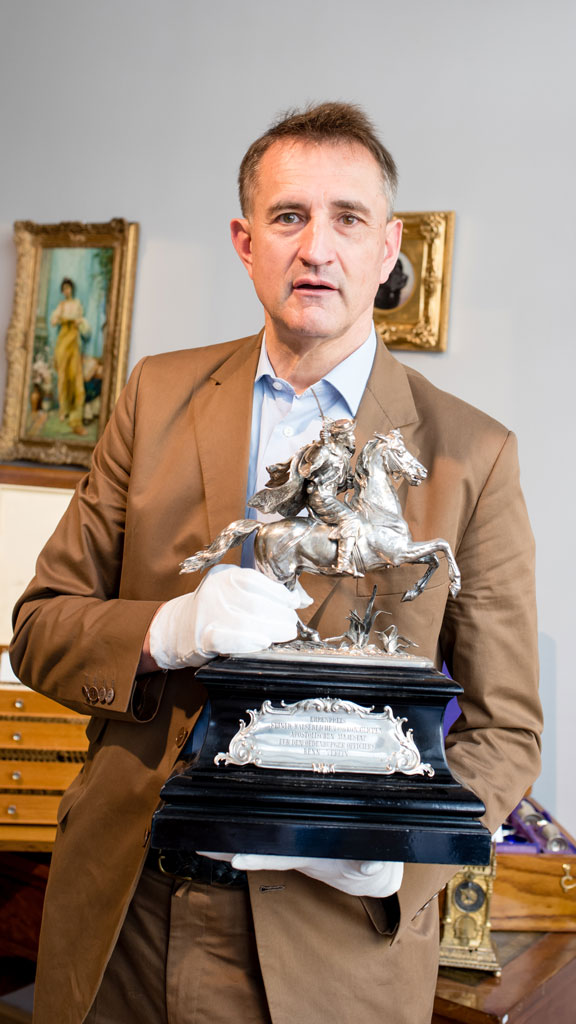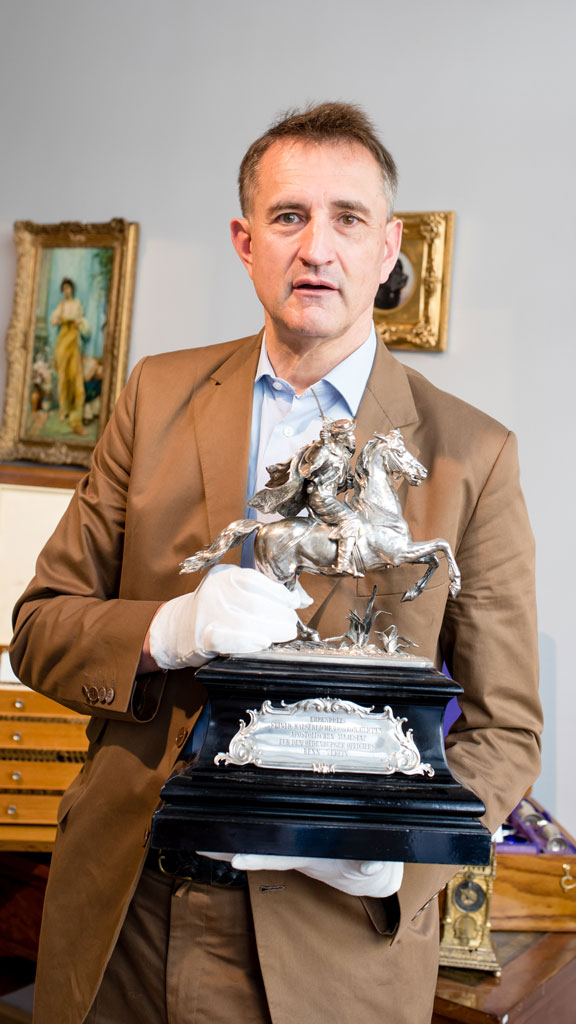 Video: Laterndl clock - Ferdinand Schmidt
The team
Left to right:
Gabriella Andreewitch
Stephan Andréewitch
Mag. Dieter Hörwarthner, M. Sc.
Sophia Kury
Photo: Taken in the shop at Stallburggasse 2, 1010 Vienna. Stephan Andréewitch with a silver centerpiece by Jakob Krautauer (Vienna, around 1818).
Our store in the Czech Republic
From 1992 to 1997 we ran a store in a residential building with unique Bauhaus architecture in the Alfa Passage in the heart of Brno.